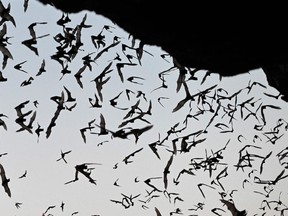 Research suggests click-based echolocation is a valuable navigational tool
Article content
It sounds almost too batty to believe: people navigating through a darkened labyrinth using nothing but the click of their tongue.
Article content
All participants who were blind reported improved mobility, with 83 per cent reporting the training had increased their independence and well being in a follow-up survey three months later. Surprisingly, sighted participants performed moderately better in some of the tasks, but this could be explained by their younger age (when hearing is sharper), the authors write.
Each of the training 20 sessions for the study lasted about two to three hours long. Participants completed tasks such as using clicking to determine whether the larger of a pair of disks was at the top or bottom and identifying which way a rectangle board was oriented.
They were also taught to navigate through lab mazes and paths that zig zagged and made rounded U- and diverging T-shapes.
Article content
In the final two sessions, participants were tested in a new virtual maze and found that they had all improved with training. In fact, some of the participants even did better on tasks than seven echolocation experts.
The clicks and whistles of a mammal using echolocation, such as those observed in many whale and bat species, rebound off of solid objects in the vicinity to help the animals gauge their distance from it.
The researchers suggest that click-based echolocation can be a valuable navigational tool for people as well. The clicks produced by cane taps, footsteps — and one's own mouth clicks. While a previous study showed adults can be taught to echolocate, this study was the first to show that the outcomes held regardless of sight or age.
"We are very excited about this," said Thaler. She added "it would make sense to provide information and training in click-based echolocation to people who may still have good functional vision, but who are expected to lose vision later in life because of progressive degenerative eye conditions."